Thirteen "bunny bloggers" are all leaving fun freebies for you to collect. That's right, put on your Easter hat, decorate your basket, and start the "Easter freebie hunt". Hop from one blog to the next gathering your spring freebies. Don't forget to leave a little love along the way :)
Once you have completed the full circle, do be sure to head back to
Mrs. Leeby's blog
for a chance to win a
$25.00 gift card
and
13 learning packages
donated by all the participants.
Thank you Aimee at
Pencils, Book, and Dirty Looks
for sending your followesr along the route to my blog. Aimee has a really fun symmetry freebie that your students are sure to enjoy. If you are starting your hunt at my blog be sure to go back and take a look at Aimee's adorable blog and great freebie! Just click on the image below to be on your way to a visit
Pencils, Books, and Dirty Looks.
Now for my freebie... have you been to the
Dollar Tree
lately? If not, head over ASAP because they have some wonderful spring and Easter goodies. I picked up this cute flower table scatter. I love graphing and math practice using table scatter, so I created a 2-page math center activity that includes, sorting, tallying, analyzing, graphing, a greater than/less than/equal to exercise, and adding and subtraction practice. Yup - it's a great math review center activity. I also included a page of colored flowers to be printed and laminated in case your
Dollar Tree
has run out of the scatter.
Click on the image to download the PDF
Also, If you are looking for a last minute Spring/Easter activity packet to use in your literacy and math centers next week please check out my
"Some-bunny" Loves Spring
packet (with 9 activities, craft patterns and directions). The craft is easy, uncomplicated, and really cute. It's on
sale
this weekend for only
$2.00.
Click on the image to go to my TpT store for the sale!
Now on to the next freebie! It's time to hop over to Brenda's blog at
Primarily Inspired
for her fabulous freebie. She is offering a
fantastic Color by Place Value
activity pack. Brenda is a 1st/2nd grade looping teacher with lots of great ideas. You don't want to miss her blog or her freebie.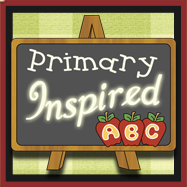 Thanks for stopping by and enjoy the rest of the blog hop!
Granny (Cindy)